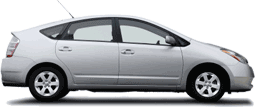 Auto Insurance
We offer a full line of vehicle policies:
Family Autos

Motorcycles

Antique/Classic Vehicles

ATVs

Commercial/Fleet Vehicles
Policy Coverages
The state of Viriginia requires all vehicles to be insured for the following coverages:
Bodily Injury Liability - Covers accidental injury or death of another person if caused by you in an automobile related accident.
Property Damage Liability - Covers accidental damage to other people's property if caused by you in an automobile related accident.
Defense Costs - Covers court costs, legal expenses and attorney's fees.
Uninsured / Underinsured Motorist - Covers injury suffered by you, your family and anyone riding in your car against the uninsured / underinsured or hit-and-run driver.
Coverages that may be required by your leinholder:
Collision - Covers you for damage to your car in an accident, regardless of who was at fault.
Other Than Collision (Comprehensive) - Covers your car against damage from fire, lightning, flood, theft, glass breakage, falling objects, and other specified perils.
Optional coverages:
Medical Payments - Covers you and your family in any car, and anyone riding in your car for medical expenses resulting from an accident.
Loss of Income - Covers you for loss of income due to an auto accident.
Towing and Labor - Covers the cost of towing expenses for a disabled or wrecked vehicle.
Rental Reimbursefment - Covers the cost of renting a car while your car is being repared or replaced after an accident.
How to Get a Quote
Call us at (434) 823-5471 or send an email to

[email protected]

with the following information:
Insured driver – name, address, telephone, birthdate, social security number, license information, marital status
Other drivers (residents of your household and regular drivers who live elsewhere) Name, birthdate, license information and marital status
Vehicles - please include the year, make, model, VIN number and lienholder for each vehicle.
Prior coverage – name of prior insurance company, dates of policy and liability limits.
Coverage requested Choose liability limits of 50/100/50, 100/300/100 or 250/500/100
Medical Expense coverage Choose $2000, $5000 or $10000
Comprehensive coverage - Choose declined, $50, $100, $250, $500 or $1000 deductible
Collision coverage Choose declined, $100, $250, $500, or $1000 deductible
Towing coverage?
Rental Reimbursement coverage?